Irish Stew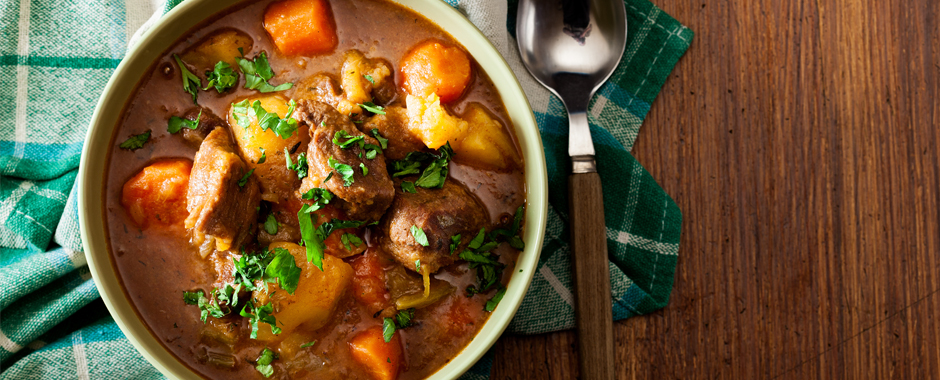 4 Servings, Each Counts as: 2 Life Proteins, 5 Life Carbs, 4 Life Fats


Ingredients:
2 cups Beef top round, cut into 1 to 1 1/2 in cubes
1 Tbsp olive oil
1 green pepper, seeded and chopped
3 or 4 sweet chili peppers, seeded and chopped
1 small onion, chopped
4 garlic cloves, chopped
6 fresh cilantro leaves, chopped
2 Tbsp vinegar
2 cups low sodium beef broth
1 cup hot water
1/2 tsp dried oregano, crushed
1/2 cup lite tomato sauce
2 bay leaves
4 carrots, peeled and cubed
2 potatoes, peeled and cubed
1/4 lb green peas
12 olives stuffed with pimientos
1 Tbsp capers




Directions:
1. In a Dutch oven, heat oil over medium-high flame.
2. Add the beef and stir consistently, until meat begins to brown.
3. Add the next 11 ingredients (through bay leaves); mix and bring to a boil. Reduce heat to low, cover, and cook for 1 hour.
4. Add carrots to Dutch oven and stir.
5. Bring back to a boil, reduce heat to low, cover, and cook until the meat is fork tender, about 1 hour.
6. Add potatoes, peas, olives, and capers.

7. Mix well, bring to a boil, and then reduce heat to low. Cover and cook until vegetables are tender, approximately 30 minutes longer.