Mango salsa chicken bowls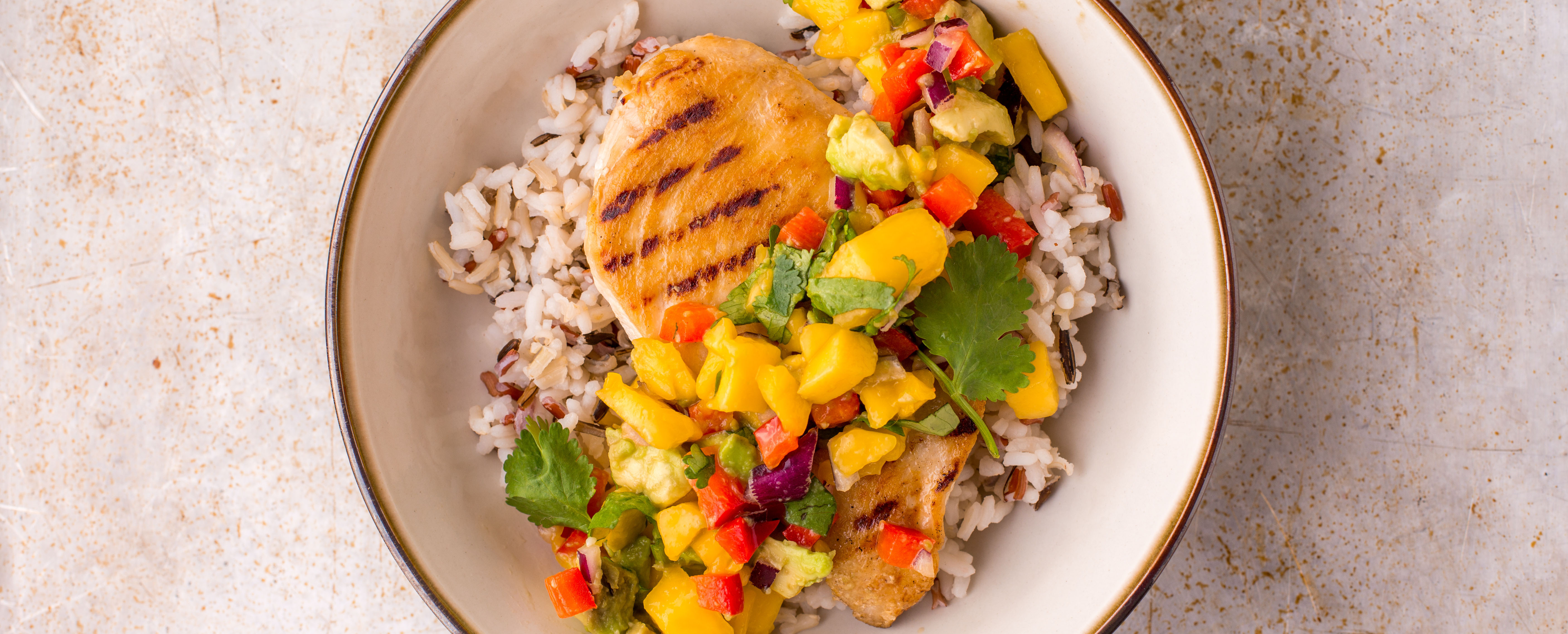 4 Servings, Each Counts as: 4 Life Proteins, 3 Life Carbs, 4 Life Fats
Ingredients
1 tbsp brown sugar
1 1/2 tsp ground allspice
1 1/2 tsp dried thyme
1 tsp ground cinnamon
1 tsp ground ginger
1 tsp ground cloves
1 tsp ground nutmeg
1 tsp salt
1/2 tsp black pepper
1 minced jalapeno
3 garlic cloves minced
3 stalks of green onion, minced
juice of 1 lime
2 tbsp olive oil
1 lb chicken breast
4 cups cauliflower rice
For salsa:
1 cup diced mango
1 cup diced pineapple
1/4 cup diced red onion
1 tbsp diced jalapeno
2 tbsp chopped fresh cilantro
juice of 1 lime
salt
1 avocado, sliced

Directions
1. In a small bowl combine, brown sugar, allspice, thyme, cinnamon, cloves, nutmeg, salt, black pepper, minced jalapeno, garlic cloves, green onions, lime juice, and olive oil. Stir to mix everything together and set aside.
2. In a bowl combine chicken and spice blend. Massage blend into the chicken. Marinade for 15 minutes.
3. Preheat grill to medium-high heat.
4. While grill heats up, cook rice as directions say on the box.
5. In a medium bowl combine mango, pineapple, red onion, jalapeno, cilantro, lime juice, and salt to taste.
6. Grill chicken (5-6 minutes each side) until completely cooked. Let rest for 2 minutes then slice.

7. Serve in a bowl rice, chicken, and salsa.